Reviews From Our Students
Check out what our students have to say about their experience at Level Up Academy.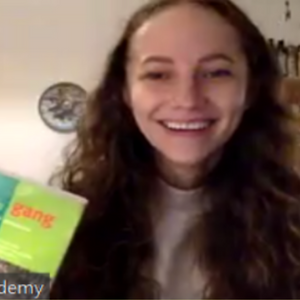 What Our Students Say About Us
"Before Level Up Academy, I studied at two other schools, which only succeeded in alienating me from the Dutch language.
I decided to start with the intensive group course (A0-A1) at Level Up Academy, and my attitude towards the Dutch language changed 180 °. The teachers are willing and able to answer every question asked and there are a lot of additional materials from which you can learn. Above all, there is always a nice and friendly atmosphere at Level Up Academy. I am continuing my studies at the Level Up Academy and will definitely stay there until I graduate at the highest level. "
"Together with my fiancé, we started seriously considering staying abroad in the Netherlands. We have started the preparations: learning language first. We found the Level Up Academy website and that was (and is) it!
Choosing remote classes, you do not have to travel anywhere, you will not fall asleep from boredom (and if you accidentally miss it, you will press the circle instead of the triangle in the game and it will be a shame!), you do not have to give the cats to the sitter and you can even participate in the classes during your holidays. It really all depends on you. The teachers give you all the learning tools – presentations, group work, role play, interactive games and much more! In addition, your hard work in "cramming" words and irregular verbs and … you can start learning more words and more irregular verbs – those for the next week.
I have completed my second course and I am now waiting for the next one to start. After completing the A1-A2 and A2-A2 + courses, I am already able to keep up with my Dutch colleagues from work, they themselves point out that after these 20 weeks they see a huge improvement in my speaking and understanding. I can even understand some of the jokes!"
"The course is very well prepared and the atmosphere in the classes is very good. I find the whole course just great!"
"If someone is still doubting whether they should sign up, then I highly recommend it. You can learn a lot."
"I heartily recommend Level Up Academy although I never believed in the online learning before! I look forward to my next course :)"
"I recommend this school to everybody. Professionals that will help you level up! Never a dull moment in class. Lessons are taught in a manner that everybody can understand and they are interactive too! No need to wonder which school to sign up for, I know I made the right choice."
"I definitely recommend this school to everybody. I had lessons with a teacher Michelle. In my opinion the best teacher I could have. Lessons were interesting, I also learnt the Dutch language in a funny way so it was not boring at all."
"Recommended. Full professionalism. A large selection of courses from scratch to advanced level. I chose the individual course, after a telephone conversation, I was able to easily determine the hours that suit me. I was informed about everything on a regular basis."
STAY uP TO DATE ABOUT NEW COURSES
Sign up for our newsletter